Spirit is Everything!
Winning... not so much.
2008-2009 Toronto Maple Leafs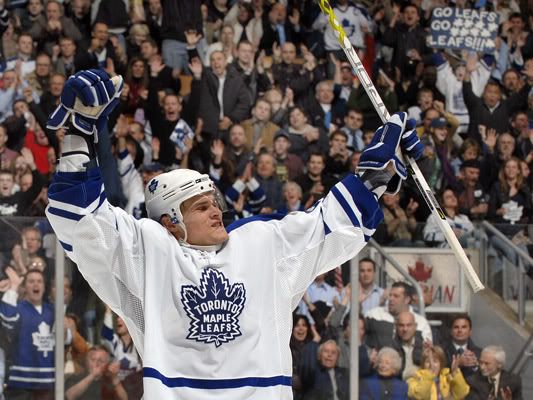 "I am the Pony-King! I can do anything!"
Only a few more hours to go, Leaf fans, before we drop the puck on yet another un-glorious season. It's a year that begins with "zero" fans, zero expectations, and zero Captains.
It's a fresh start. A clean slate. And in mere moments it will all unfold, the living monument that is Leaf-history will yet again be carved with Blades of Honour and Glory. Towards victory or defeat, we march with a mighty roar...
"Go! Leafs! Go!"
"Go! Leafs! Go!"
"Go! Leafs! Go!"
"Yaaaaah! We love to win!"

Time to paint your face and get your freak-on, Leaf Nation. Despite the discouraging opinion of the sad, morose Damien Cox, this is going to be an exciting season. But don't take my word for it. Check out some of the comments from Damien's blog. Here's a good one:
Rather then the usual dissapointment and frustration of losing with under-achieving "superstars", Leaf fans will get to see a new coach with a new style, players whose jobs depend on their performances, unknown quantities like Kulemin and Frogren attempting to establish themselves, and working-class journeymen (Mayers, Stajan, Moore) emerging as leaders. Do the words "develope, blossom, mature" sound boring? ... If you live in Toronto, and you follow hockey, but you don't see this set of circumstances as being positive or exciting, well then you're just a sad, morose person who can't be encouraged about anything.

Surprised they printed that. Here's another:
The only folks who are "suggesting" the things that Damien is talking about get paid to express their opinions either on TV, print or radio. Not one fan with a brain in their head is as delusional as he suggests, he should check the meals at the ACC press room.
-TorontoSpotsMedia
And another:
Folks, it's about more than just having lots of names, bald heads, and arrogant columnists.
The Maple Leafs might have the weakest media corps in the entire league.
-PensionPlanPuppets
Hahahahaha. Hilarious. Maybe it won't be exciting to Damien because he just doesn't care. That's fine, that's his choice. I choose: "Go! Leafs! Go!"
"Go! Leafs! Go!"
"Go! Leafs! Go!"
"We did it again! Scoring goals is awesome!"

With the final cuts to Bell, Devereaux and Kronwall this week, the line up appears set. Coming out of camp, the big surprises for me have been Luke Schenn and Ian White. It remains to be seen how long either will stick with the club, but congrats to both for finding a way to get on the team for now.
And so here's where I take a stab at projecting the forward line matchups:
Poni - Antro - Blake (Tlusty/Kulemin)
Hagman - Grabovski - Mitchell (Kulemin/Hollweg)
Stajan - Steen - White (Tlusty/Mitchell)
Mayers - Moore - Hollweg (Blake/White)

The names in
blue
are the players that I think should play everyday together. The players on the right are the remaining 6 rotating through 4 spots. In
bold
is my first choice and in brackets are players they could be interchanged with depending on game situations, injury, etc.
"Something had to be done to change the culture of this hockey club."
I think Cliff's moves this summer have been very cunning and I really like what I've seen from Ron Wilson. The record in the exhibition (2-5-2) didn't show it, but this is a far better team then what we had last year. Wilson's attitude is already making a difference and he's also given us some great quotes early on. So far, this is my favorite:
"The only thing I guarantee is this team will not accept defeat. If they go down, they'll go down swinging."
Fuck, ya!! It's like I can feel something in my heart again. What is that? Love? Pride? Passion?!?
"Go! Leafs! Go!"
"Go! Leafs! Go!"
"Go! Leafs! Go!"
Look at those beautiful, sensitive, understanding eyes. What a dreamboat!
If ever there was a man to have a man-crush on, it is Vesa. The most adorable tandem the Leafs have seen since Damien Rhodes and Felix the Cat, Toskala and Cujo are going to bring respectability back to the Leafs' blue-paint this year. While the world waits for Pogge to mature, the time is now for Vesa to prove he is a superstar goalie in the NHL.
"Hey! You really don't suck! We might actually be good again someday!"
Finally, we need to acknowledge Luke Schenn. Thank you, Luke, for all you've done so far. Your skill, your poise, your power - humbles us and reminds us that the great hockey players of our time have all been worth waiting for. For this tremendous gift of genuine optimism we will, in return, have eternal patience (well, 2 to 3 year patience actually, but that's like an eternity on a Leaf Nation time-scale) while we wait for the right team, one that Luke Schenn deserves, to be assembled and delivered to him.
The future is bright Leaf fans. The future starts now. Get excited. This is it. Let it begin...
"Go! Leafs! Go!"
"Go! Leafs! Go!"
"Go! Leafs! Go!"