I
have a new favorite player in the NHL. Exept for a brief period in the 1980's when I thought Jari Kurri was my father, that usually means I have a new
favorite Leaf
. His name is Nikolai Kulemin. He wears number 41. He is the Leafs second round pick, 44th overall, from 2006, and he's already shown the kind of flash and finish that gets me excited enough to say, "This guy is
Super Kule
!"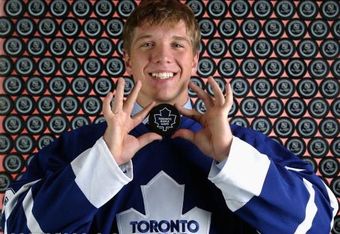 Nikolai Kulemin demonstrates some nifty puck-handling.
I don't want to put too much pressure on the young kid's shoulders. After all, it's only been 3 games. That's a long way off from establishing an NHL career. But I can tell you this: he's better then Brandon Convery. He's better then Sergei Berezin. And he's going to be better then Kyle Wellwood.

Okay, maybe that's not saying a whole lot. Still, I don't think I'm going out on too much of a limb if I say, "this kid has it, and he's going to be the real deal". In just three games, he has already scored his first 2 NHL goals. Not only that, he is the first Leaf to score 2 goals. Other skill-players on the Leafs, like Tlusty and Grabovski, have yet to register a point. Both Kulemin's goals showed poise and grace without a hint of nervousness or insecurity. Born in July, 1986, Kulemin has just turned 22 this summer, yet already looks very mature, while still being full of youthful energy and zip.
Became first player to make his NHL debut in a season-opener against the defending Stanley Cup champion and score a goal in that game since Eric Lindros did so for the Flyers against the Penguins on October 6, 1992
If you missed that odd bit of history, here it is:


Sweet and swanky! Also turned out be the game winner.
His second goal is equally as impressive. After Kulemin and Antro team up to steal the puck from the Blues inside their line, Kulemin glides backwards towards the goal and makes no mistake with a very slick backhand:


Kulemin's second goal of the year put the Leafs ahead by 2. Unfortunately, 2-goal leads in Toronto don't mean much and after 3 periods the game went to a shoot out. Step forward Nikolai and show us what you can do:


Nice. I truly hate shoot-outs. I really do. I don't even watch them. I listen for the outcome of each shot, but I usually find something else to distract myself with 'cause I find them so boring and painful to watch. Every time I see the Leafs in a shoot-out, a small part of me that once loved the NHL is sliced away forever. But if Nikolai Kulemin can keep on doin' it the way he just did against the Blues, every single time, and become a shoot-out specialist that we can depend on, well, I might change my feelings about it... a little. Only if the Leafs were to win every shoot-out that they were in this year could I accept this skills-competition-sideshow as a legitimate part of the game. And even then, deep down, I'd know I was lying.
This last video is kinda funny. After they mispell the word "difference" it gets better. I guess the real question, after watching that, is: How much of a difference will Kulemin make? Time will tell, I guess, but if he continues to hit the back of the net with regularity during the shoot-out, or actually during the "game" part of the game, then he might be making a huge difference after all - the difference between winning and losing. As a Leaf fan, that's all the difference in the world.