Welcome back, Leaf fans and fanatics, and here we go with another edition of
The Blood Of My Chief
, a "chronological tale of magnificence and misery" starring our own Leaf Captains. First we'd like to apologize for the delay, and for any apperant sloppiness in the work. The project was nearly cancelled after multiple long-distance phone calls and an unsuccessful attempt to have David Attenborough reading the post. Unfortunately, as we were live across the Atlantic, there was a time-delay between Attenborough's voice and the words as they appeared on the screen. So we abandoned the idea, but then the bastard still wanted to get paid. So we told him we were shuttin' it down. Hopefully he's forgotten about us by now.
Vol. I
and
Vol. II
are both available separately online. No other formats are currently under production. Once again most of the information was gathered from
these
three
sites
. You could just read those sites, but then you'd miss the cool stuff I wrote about Rick Vaive. If you're in a hurry, maybe just read that. And now, let's begin Volume Three,
The Blood Of My Chief
.
Darryl Sittler, Captain from 1975-81
Sittler is the first Leaf Captain that I can remember. I remember him being traded to Philadelphia and feeling confused and devastated, kinda like when John Lennon was shot. I'd already had to deal with the loss of "Tiger" Williams, so I knew it was possible that any player could be traded at any time, but a 7-year old child is poorly equipped to deal with such a dramatic loss.
In Sittler's first year as Captain, he distinguished himself by being the first Leaf to score 100 points in a season. He accomplished the feat a second time (1977-78), scoring 117. Some might argue that Sittler was the greatest Leaf to ever wear the uniform, and until Gilmour (points in a season) and Sundin (career points) came along, statistically that was true. Sittler was also a remarkably charismatic Captain who seemed to be a true gentleman and a kind, soft-spoken, yet, inspirational leader.
Despite not winning a Cup, Sittler did accomplish something for which he will never be forgotten. On February 7th, 1976 against Don Cherry's Boston Bruins, Sittler recorded 10 points in a single game. It was a truly magical performance, and 32 years later it's hard to imagine this record ever being equalled or broken. In 1989, Sittler was inducted into the Hockey Hall of Fame. He wore number #27.
Rick Vaive, Captain from 1981-85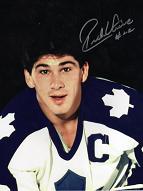 I got over the fact that Sittler was no longer a Leaf pretty quickly when I found out that the guy who lived across the street from me, y'know - Rick Vaive, was named the 12th Captain in Leaf history. I used to see him mowing his lawn in his underwear in the middle of the afternoon, or playing basketball in the driveway with his beautiful blonde phys-ed instructor wife. After school I'd deliver the newspaper to his house. He had a huge German Sheppard who, confusingly, was named "Santa". That dog scared the crap out of me. Neighboorhood legend had it that
Santa
once ate a burglar.
Vaive was the first Leaf in history to score 50 goals in a season, and he did it 3 seasons in a row ('82, '83, '84), a feat which has still not been duplicated. His 54 goals in his first season as Leaf Captain is still the most that any Leaf has ever scored in one campaign. His signature move was to accept the puck at the opposition blue-line, take three long strides into the zone, and hammer a slapshot past the frozen goalie into the back of the net. Perhaps because of my close association with this Chief, I've always felt Vaive was an outstanding Captain, and a legend who represented the Blue and White with honour. He was a terrific offensive force on the right-wing who had the misfortune of playing for a horrible owner during a horrible period in Leafs' history.
I
will always associate the number #22 with Rick Vaive.
When Vaive was finally traded I wondered who the next legend to move in across the street was going to be. Sadly, the house stayed empty for quite a while, and so did my heart. I gave up the paper route, someone who didn't play hockey for a living moved in to that house, and Ballard's horror show continued, with neither Captain, nor glory anywhere to be found.
Rob Ramage, Captain from 1989-91
For a while after Vaive, there was no Captain. With our tribe lost in the wilderness without a Chief for 4 years, I gradually lost interest and discovered other obsessions like Top 40 music, Atari, and kissing girls. A non-Leaf,
Jari Kurri
, was my favorite player. Adolescence, my friends, can be confusing and awkward.
With the acquisition of Rob Ramage, who was immediatly named Leafs Captain, the franchise only took a half-a-step in the right direction. The team needed a veteran leader with poise and skill, which Ramage certainly was, but his talent was limited and his time with the Leafs, ultimately short-lived. Most damaging to Ramage's legacy, is a post-career accident for which he was found at fault. On December 15, 2003, Ramage's passenger and former Black Hawk, Kieth Magnuson, was killed, while another driver was injured when Ramage's vehicle swerved into an on-coming lane. On October 10th, 2007, Ramage was found guilty of
impaired driving causing death
, and
dangerous driving causing death
, as well as guilty on 3 other charges. On January 17, 2008, Ramage was sentenced to 4 years in prison.
It's disturbing and ironic that the Leafs currently have a player on the roster experiencing a similar situation to Rob Ramage. Like
Mark Bell
, a tragic mistake has been made, and though a second chance
can
be earned, until the debt is repaid and the time served, it is difficult to say or write anything positive about the Leafs' unfortunate 13th Captain.
Wendel Clark, Captain from 1991-1994
Wendel Clark became the 14th Captain of the Toronto Maple Leafs in 1991. Perhaps it should have gone to him as early as his second year (1986), after he finished 3rd in voting for the Calder, as it was clear at that point that Clark was the leader the team was following. Wendel could do it all, and often did it alone.
He could hit
,
he could fight
, and
he could score
.
In 1992-93, with Pat Burns behind the bench for Clark's second season as Captain, the Leafs would reclaim a part of their former glory. Gilmour and Andreychuk would star offensively, while Felix the Cat emerged as a star goalie, yet it was Clark whose leadership was most responsible for returning pride and honour to the Leafs' uniform. His sacrifice,
his omnipotent will
, and at times, his utter domination, led many Leaf fans to diefy our 14th Chief, and simply
refer to him as God
. It is likely that the number #17 will never be worn by another Leaf player ever again, nor should it be, for mere mortals will never compare to Wendel Clark.
In the summer of '94, after leading the Leafs to back-to-back appearances in the Final Four, Clark was traded by Cliff Fletcher at the NHL Entry Draft, a blockbuster announced by Gary Bettman to the stunned Hartford audience, that brought future-Captain Mats Sundin into our tribe.
Doug Gilmour, Captain from 1994-97
Affectionately known as "Dougie" by almost every Leaf fan, Doug Gilmour is perhaps the most popular Leaf player of all time. He was one of the most exciting players to watch and his playoff performances were the greatest seen by a generation of fans. Gilmour electrified audiences at Maple Leaf Gardens every time he carried the puck through the nuetral zone, and had an instinct for the net that resembled his other nickname, - "Killer".
In 1992-93, Gilmour broke Sittler's record for most points in a season (127) and had an amazing 95 assists, also a team record. He was the runner-up for the
Hart
trophy and was awarded the
Selke
as the league's top
defensive
forward. That season's playoffs featured a long list of memorable goals and assists by Gilmour, the most legendary being his
double-overtime, behind-the-net-backwards-spin-O-rama
, in Game One, Round Two, against Cujo and the Blues.
Gilmour was never able to equal his statistics from that year, nor lead the team beyond a second appearence in the Conference Final, and while he was Captain, the team had mixed success. But the excitement was always there, and the fans continued to believe in Gilmour, and even expected the same success and more. His popularity never declined, even after he was traded, and eventually, Dougie would make his way back to the tribe for one last game. Today, Gilmour is still with us, shaping our future and guiding our young, the way we'd always dreamed. On August 7th of this year, the Toronto Maple Leafs announced that Doug Gilmour would join the Toronto Marlies as an assistant coach.
To Be Continued? Only one Chief remains... or perhaps, there is another...!