S
uper Kule is
Super Hot
.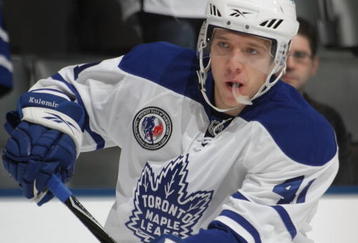 That would have been the title for this post except that the Leafs are playing Ottawa again, so instead we're back with another episode of the Battle of Ontario Blow-by-Blow. Hard to believe, but this is the last time these two teams will meet this season. The Leafs have won 3 in a row against the Sens, and look to make it 4 straight tonight. Toronto leads the season series, 3-2 (6 points to 5), including the overtime victory from their last meeting just 10 days ago. In those 5 games, the Leafs have given up only 8 goals to Ottawa, while scoring 13.

Before the game starts though, let's talk about Nikolai Kulemin for a second. I'd say he's probably my favourite Leaf forward right now, with Bozak as a close second. Currently, Kulemin has a 5-game point streak going, with 4 goals and 3 assists in that span. He's also a +3 for March after 8 games, averaging nearly 3 shots (2.875) per game since the Olympic break. He has 2 game-winning goals to his credit, plus a shorthanded goal. Right now I think he looks terrific on the top line with Bozak and Kessel as those 3 have combined for 17 points over the last 4 games.

A couple more thoughts before the game...
Gunnarsson is an incredible +11 after just 30 games played. He has 4 points in his last 5 games, bringing his season total up to 11 (2G, 9A), and is a +8 in 8 games since the break. His numbers, averaged out over an 82-game schedule would look like: 5.4 goals, 24.6 assists, for 30 points, and a plus 30. Wow. Only 9 NHL players have a plus/minus above 25, and all of them play for either Washington or Vancouver. Last season, only 8 players finished the year with a plus/minus at 30 or above.
I'm still very interested to see how the Leafs scoring race will shake down over the remaining 12 games. Kessel, with 6 points in his last 4 games, has taken over the team lead in scoring, 1 point ahead of Tomas Kaberle who appears to be struggling since returning from the Olympics. My instinct tells me that Kaberle is not going to end his season (and possibly his career as a Leaf) mired in a lengthy slump, so I expect him to bounce back and to make a run at reclaiming the team scoring title. Time will tell, I guess. 13 games to go.
Let's get this one started...
First Period
20:00 Gustavsson in goal. Awesome. He's got 3 wins in a row, lookin' for his 4th. Kessel, Bozak, Kulemin up front. Phaneuf and Beauchemin on the blueline.
19:35 Bozak bumped off the puck behind the Senators net.
18:05 Caputi cruises through the crease but can't hit the empty goal.
16:58 Penalty. Winchester. Didn't really see it. Called for elbowing.
15:55 Minute gone in the powerplay, nothing really happening.
15:25 Monster gives the puck away and the Leafs are hemmed in their own zone for 10 seconds by the shorthanded Senators.
14:55 Grabbo just misses with a backhand as the penalty expires.
14:09 Penalties. Phaneuf and Foligno for yapping, I guess. They call it roughing. 4-on-4.
13:20 Mitchell digs the puck out behind the Sens goal, sets up Beauchemin. Save Elliott. Good chance.
11:40 Kaberle with a nice defensive play to clear the zone. Yes, really.
11:30 Sens back in, Gustavsson with a good stop, rebound bounces off traffic and trickles past the post.
11:00 Huge kick save by the Monster.
9:10 Sens controlling the play for several consecutive shifts but no real scoring chances.
8:40 GOAL!!! Kessel! Awesome wrist shot eludes Elliott. Great pass by Kulemin. Bozak with the 2nd assist on the 3-on-2, sent away by XLB. 1-0 Leafs. Six game point streak for Kulemin.
6:20 Leafs control the play in the Sens zone for a long stretch without a solid chance.
5:55 Primeau tries to shovel a loose puck into the net.
5:40 Fight! Carkner looks like he's challenging Orr, but they both look like they're too tired to go, when suddenly we have XLB and Neil squaring off at centre ice. Stupid linesman won't get out of the way and what could have been a good scrap becomes a farce.
5:15 Save by Gustavsson, dangerous rebound cleared away.
4;50 Kessel gives the puck away right in front of the Leafs goal and the Sens get a chance out of the confusion. Alfie sets up Spezza who misses wide.
3:30 Gustavsson good kick save, rebound bounces over Spezza's stick.
2:45 Gustavsson with another good save, no rebound, after Gunnarsson gives the puck away.
2:20 Kaberle throws a hit and knocks down his man. Yes, really. Might have been accidental.
2:00 Carkner is flattened into the boards by Schenn deep in the Leafs zone. Scrum ensues.
:38 Penalty. Just as Stalberg is breaking towards the goal, Grabbo gets called for tripping a defender.
:00 Senators didn't really have enough time to threaten on the PP and the period ends. 1-0, Leafs.
Second Period
20:00 Sens still on the powerplay for a minute, 22 seconds.
19:15 Alfie with a hard shot from the point, stopped by Gustavsson. No rebound.
18:25 Chance for Ottawa, Gustavsson makes the save with his shoulder.
17:54 Penalty. Stalberg lazy hooking penalty in the Sens zone.
17:35 Beauchemin stands up Spezza just inside the blue line.
16:40 Another hard shot by Alfredsson from the point, big rebound bounces harmlessly away as the Leafs all have their men tied up.
16:00 Kulemin rubs out Neil behind the Leafs net.
15:27 GOAL!!! Terrific goal by Mitchell. Nicely dodges a hit and then sends the puck top shelf. Bang. What a goal.
15:08 GOAL!!! Grabbo scores! 3-0! Stalberg and Caputi retrieve the dump-in and find Grabovski in front who slides it in. Suddenly the game is blown wide open. Sens call a time-out.
14:35 Dangerous rebound cleared away by Kaberle. I'm serious.
13:24 Penalty. XLB. Interference. That's like the 4th penalty tonight that I didn't really see. Either they're happening behind the play or the refs are being finicky.
12:40 Mitchell rags the puck shorthanded, killing a good extra ten seconds.
11:35 Spezza at the point (?), hard shot, dangerous rebound but the Leafs tie up their men. Doing a good job of that tonight.
10:56 Penalty. Ottawa. Volchenkov breaks up a chance in front by breaking Bozak's stick. Two minutes for slashing.
10:20 Shorthanded chance for the Sens, shot from the slot, another good save by Gustavsson, no rebound.
9:20 Puck goes over the glass and the refs are showing some amazing collective indecision. No penalty but they don't look entirely sure about it.
9:00 Penalty. Another one against the Sens. Sutton highsticking Beauchemin in front of the Sens net.
8:00 Good puck control by the Leafs. Shot by Kessel stopped by Elliott.
7:05 Monster stop on a breakaway for the Sens!
6:20 Nice play by Hanson to chip the puck out of the Leafs zone. Little things...
5:40 Neil with a chance alone in front, stopped by Gustavsson with a butterfly kick save.
5;00 Phaneuf loses the puck to create another chance for the Sens but then recovers nicely and ties up his man, and Monster is able to slap the puck into the corner.
2:50 Dangerous centering pass by Spezza knocked away by Schenn.
2:05 Kessel, set up by Kulemin, nearly scores again with another hard wrist shot.
1:34 Goal. Sutton scores after Cullen steals the puck from Kaberle. 3-1.
1:15 Sutton again with a hard wrist shot off Gustavsson's shoulder.
:00 Second period ends without much action after the Sens goal.
Third Period
20:00 Kessel, Bozak, Kulemin up front.
18:00 Not much happening first two minutes of the third. Chippy.
17:45 Kulemin skates in off the wing for a shot on goal.
16:55 Shot on goal by Lundmark from a bad angle and then Kaberle's point shot is deflected by Mitchell out of play.
16:10 Phaneuf hit from behind by Neil into Winchester. Dangerous hit, no call.
15;35 Kessel dishes to Kaberle, weak shot on goal, Kulemin looking for the rebound.
14:30 Alfie centres to Cullen with a nifty behind the back pass from behind the net. Cullen's shot deflected out of play.
14:20 Good chance for Kelly. Phaneuf saves a goal deflecting the puck over the net.
13:35 Caputi backhand just misses.
12:55 Stalberg breakaway... saved by Elliott
12:35 Kessel nearly sets up Bozak for a tip-in.
12:13 Nice. Schenn knocks Neil to the ice, starting a big scrum. XLB, Schenn, Neil, and Ruutu go to the box.
11:22 Oh, Jesus. Terrible hit from behind by Alfredsson on Beauchemin. Another scrum. Totally uncalled for. Should be 5 minutes. Just a minor. Not happy.
10:50 Hard shot by Phaneuf, set up by Kaberle, hits Elliott's mask, shaking him up.
11:00 Down at the other end, a great sprawling save by the Monster.
10:45 Nice glove save by Elliott. At the stop in play, Elliott goes to the bench and switches to an all-black mask.
10;30 Elliott makes a save on Stalberg, set up by Grabbo, and then goes to the bench again and switches to an all-white mask.
9:55 Gustavsson bobbles a glove save then needs to scramble for another save.
9:29 Penalty. Sutton hits Gunnarsson with an elbow.
8:20 Leafs struggle to get out of their zone on the powerplay.
7:20 Penalty ends without any good opportunities for Toronto.
6:50 Mitchell with a shot on goal, stopped by Elliott.
5:20 Sens pressing the Leafs for a minute but they're being held to the perimeter.
4:50 Schenn takes a hit into the glass but keeps on truckin'.
4:20 Wallin gets away with one, shooting the puck into the crowd, but the refs decide not to call it.
3:05 Kulemin with a nice play to knock down a nuetral zone pass and then knock a Senator into the boards before dumping the puck back in deep.
2:30 Caputi, Grabbo, Stalberg, 3-on-1. Caputi takes it all the way but doesn't really get a good shot away.
1:50 Good work by Grabbo and Caputi deep in the Ottawa zone. Clock ticking.
1:20 Elliott goes to the bench.
:55 Great kick save by Gustavsson.
:50 GOAL!!! Wallin hits the empty net from centre ice. Assists to Lundmark and Beauchemin.
:30 Ruutu bumps Schenn into the boards.
:10 One more good save by Gustavsson.
:00 Game ends. Great complete game for the Leafs. A bit sloppy in the 2nd period, but totally outworked the Senators for the win.
The First Star - Phil Kessel. Big goal set the tone and looked dangerous all night.
The Second Star - Jonas Gustavsson. Monster with 30 saves and his 4th win in a row.
The Third Star - Nikolai Kulemin. Solid 2-way effort continues to impress.
Honourable mention to John Mitchell who probably played his best game of the year.
And that's the end of the BoOBbB, at least for this season, possibly forever. Who knows. Leafs win the season series 4 games to 2. Super Kule, super hot. See ya all next time!